You will need a pre-approval letter to view most homes. CLICK: Pre-APPROVAL LETTER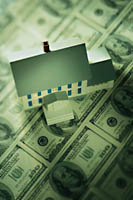 If you're like most buyers, a home is the most expensive purchase you'll ever make, and you'll probably need some form of financing.
Use the mortgage calculators below to assist you in making some decisions around financing your new home.
---
Mortgage Payment Calculator & Amortization Table
This calculator will help you determine what your mortgage payments will be based on purchase price, interest rate and mortgage term, as well as other factors. The amortization table shows what the interest and principal payments will be over the term of the mortgage. CLICK: Mortgage Calculator
Finding a lender you can trust is very important!
We recommend you call Jim Franco at:
Welcome Home Finance (724) 772-3333 ext. 2114
There is no cost, no obligation, and its only five minutes on the phone to gain great knowledge about how you should best make your purchase.
Financing options and rates can vary widely, so it is important to do your research and shop around to ensure you get the mortgage that best meets your needs at the best price.
The Closing Process:
Once you have found the home you want to buy, there are several additional steps you need to take to close the sale after the purchase and sale agreements have been signed.
Step 1 Contingency removal: The most common contingencies are inspection, financing and the sale of your current home. These conditions must be removed or waived in writing before the sale on your new home can close.
Step 2 Appraisal and title report: Your lender requires a formal appraisal to confirm the value of the home you're buying, to use as collateral to secure the loan. The title report ensures that the seller has clear title to the property and has the right to transfer ownership to you.
Step 3 Prepare closing documents: Escrow service companies or real estate attorneys prepare documents that confirm the transaction, prorate funds, etc.
Step 4 Signing of closing documents: Although both parties may have signed closing documents and deposited funds, the sale actually closes when the deed is recorded and the proceeds are available to the seller.
Step 5 Signed documents go to the lender for final review.
Step 6 The deed is recorded and funds disbursed.
Step 7 The seller receives the proceeds and the moving van arrives.
Step 8 You get the keys to your new home!
There are many opportunities for surprises or delays in a transaction. Part of my expertise is in troubleshooting problems that arise in the closing process, including anticipating and preparing for potential problems before they arise.